When I was little, I loved the book Green Eggs and Ham by Dr. Seuss. One day, our kindergarten teacher made green eggs and ham using food coloring, they were so delicious. I asked my mom to make green eggs and ham for me everyday! This is my ode to my childhood obsession in a more grown up way, no food coloring.
Servings
1 sandwich
Ingredients:
1 hard boiled egg
2 slices of your favorite deli ham
1 tbsp. pesto
1 tbsp. mayonnaise
2 slices of wheat or sourdough bread
1 bunch spinach mix
1 tsp. black pepper
1/2 tsp crushed red pepper flakes (optional)
Servings: sandwich
Instructions
1. Hard boil your egg. Peel, and cut up egg into rounds.
2. Mix mayo, pesto, and red peppers flakes in a small bowl.
3. Toast bread.
4. Heat up your 2 pieces of ham on the stove top on low until they become crisp.
5. When toast is done, spread pesto mayo mixture on each slice of bread.
5. Add ham and spinach to one slice of bread pesto side up.
6. Add egg to other slice of bread.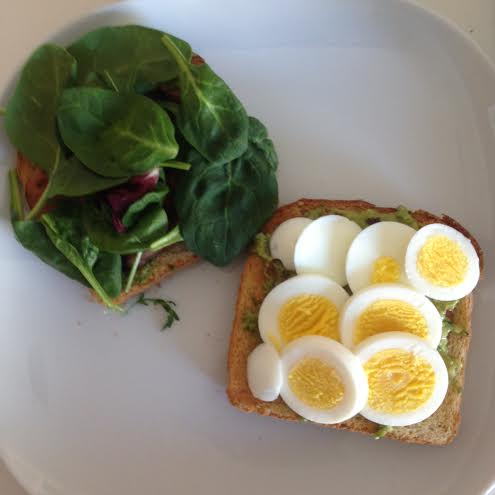 7. Make sandwich. Cut in half. Enjoy!
TAGS: BREAKFAST RECIPE, BREAKFAST SANDWICH RECIPE, EGG AND HAM, EGG SANDWICH, GREEN EGGS AND HAM, PESTO RECIPE, RECIPE USING PESTO